As mentioned in our previous post, I thought it would be fun to continue on with the "
After Dark
" series for a couple weeks. Although, I must admit, without a picture of a stack of books next to GG Allin Doll to use as a jumping off point I wasn't really sure where to start as far as pulling stuff off the shelves.
In the end I decided to group some things together by publisher; starting with an imprint that made it's PFP debut last week, Saber Tropic and the book that was on top of the pile when I had my lightbulb moment, Lyrics Of Love by Anthony French.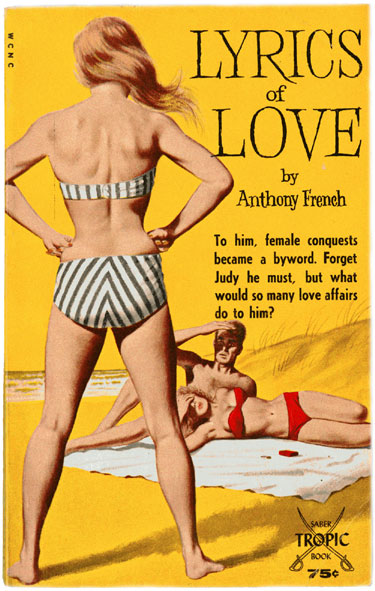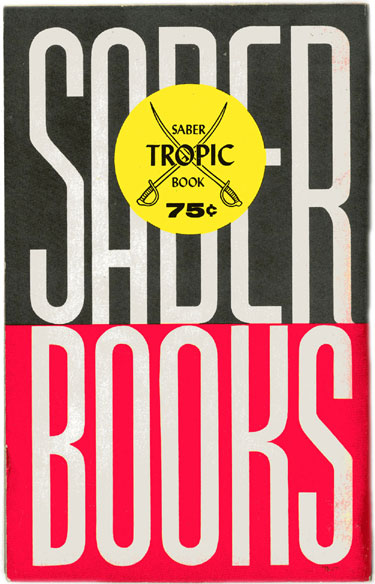 I wasn't able to track down a ton of info. on the imprint online, but you can read a little about their oeuvre via
this
page on the
VintageSleaze
site. And, thanks to a little extra time I had this afternoon and a book the husband gifted me a few years ago,
Sin-A-Rama
, I uncovered a little info on the artist I think may be responsible for the above cover, as well as the cover of
Man In Demand
, Bill Edwards.
"Bill Edwards painted sleaze covers for Sanford Aday's imprints Fabian, Saber and Vega. From the early '60s until the early '70s, Edwards accomplished over a hundred covers for Aday. He characteristically painted moles on women's faces and, strangely, often painted Band-Aids on butts. He did interior illustrations for '70s girlie magazines and was an accomplished western artist. Edwards, a New Jersey native, was also a rodeo star and film and TV actor He died in 1999 at the age of 81."
(PS: FYI, I elected not to take a picture of them posed next to GG Allin Doll because, much like their back covers, the spines of Saber books very samey.)
(PPS: Larger versions, as well as covers of books that have found their way on to the blog previously, can be seen in the Pulp Fiction Project set in my Flickr photostream,
here
.)