Although I knew we would get to this point eventually - and I've essentially been counting down to it for the past month - I must admit I'm a bit sad to finally reach the end of
this
pile of dusty pulp fiction. Fortunately, as promised in a previous post, I have a fun PFP project planned for March. Tune in Tuesday for more info.
In the meantime let's take a gander at today's entry, Don't Speak To Strange Girls by Harry Whittington.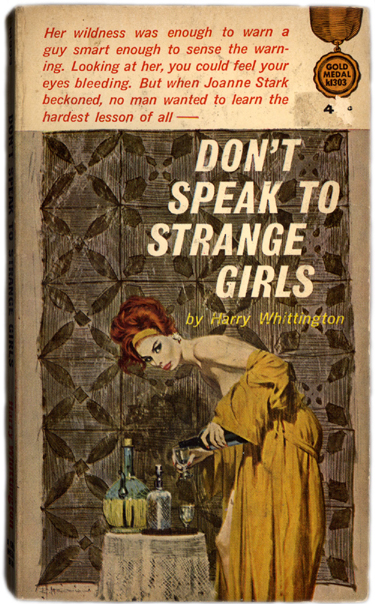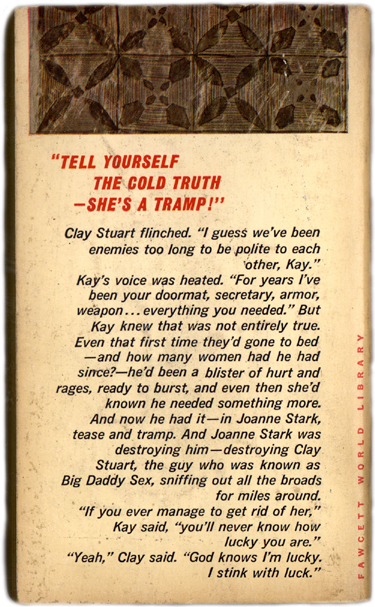 Regular readers probably already know how fond I am of the collected and individual works of McGinnis but I have to admit, although this is the second week in a row we have a Whittington penned book as a subject, I don't know anything about the author.
Except what I learned last week via a comment on our previous cover from my flickr homie UK Vintage; which is, Harry employed a few pseudonyms over the course of his literary career. (Much like yours truly.) Among them Whit Harrison, Hallam Whitney, Ken Holland & Kathryn Harriet Myers.
(PS: I like how one of them is female. Interestingly I've never used a male pseudonym, possibly because my real name is gender non-specific already.)
(PPS: Larger versions, as well as covers of books that have found their way on to the blog previously, can be seen in the Pulp Fiction Project set in my Flickr photostream,
here
.)