With only five books left, we are inching ever closer to closing the book on
this
pile of dusty flea market paperbacks. Fortunately, the remaining covers are just as good as the previous fourteen. Like today's subject, Dagger Of Flesh by Richard S. Prather.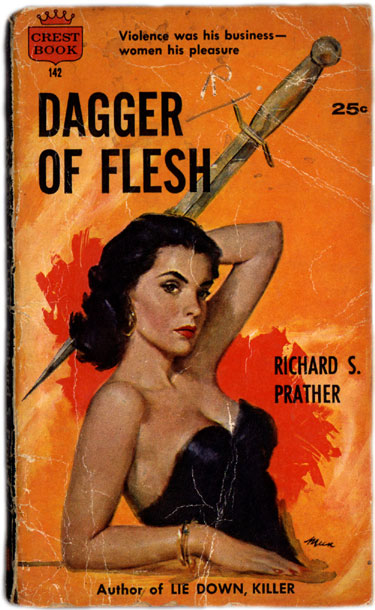 Cover by James Meese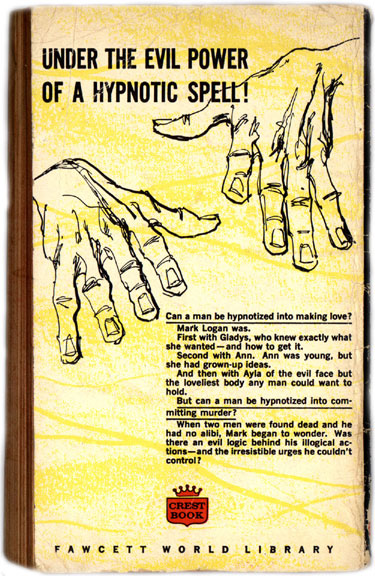 Prather was also the creator of the Shell Scott series (FYI: There will be more on this subject when we start working our way through
this
pile) and, in fact, some sources - namely his
Wikipedia page
- count this as part of the Scott series. Although, from what I can tell, it's not. As the main character's name is Mark Logan.
Either way, thanks to
UKVintage
's photostream I learned the artwork was used not once, not twice, not thrice but... quadrice? Honestly I don't what (if anything) rhyming comes after thrice but, suffice it to say, the piece was used four times. (See
here
,
here
and
here
.)
As someone already pointed in out the comments in said photostream, hopefully Meese got to collect multiple paychecks!
(PS: Meese's work has previously been featured in the PFP as well,
here
.)
(PPS: As always, larger versions, as well as covers of books that have found their way on to the blog previously, can be seen in the Pulp Fiction Project set in my Flickr photostream,
here
.)